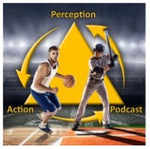 Ecological Dynamics for MMA
To say I was invited to be a part of this discussion would be a stretch. Rather I emailed Dr Rob Gray of the Perception & Action podcast to pester him for the opportunity.
I have been a fan and long time subscriber to Dr Gray's podcast and content. Prof Rob is a researcher and educator with meticulous approach to the science of motor learning and skill acquisition. 
Coach Shawn Myszka has also been a big influence on our coaching philosophies and understanding at Primal. To share the screen with them both was a treat.
Lastly I was happy to add Rafe Kelly of 'Evolve Move Play' to my network and look forward to collaborating and talking shop with him on his Podcast soon.
For anyone looking to venture deeper into the weeds with Ecological Dynamics for Sport, I can't recommend Dr Gray's podcast enough. It is very science heavy and thorough, but Rob does a great job of summarizing the heavy academic content at the end of his shows.
I look forward to more collaboration with these great coaches in the future.