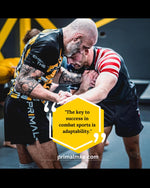 Discovering Jiu-Jitsu in Milwaukee: Dive into Primal MKE's Unique Approach
Discovering Jiu-Jitsu in Milwaukee: Dive into Primal MKE's Unique Approach
Stepping into the world of Jiu-Jitsu? If you're in Milwaukee and are new to this transformative martial art, Primal MKE - MMA and Fitness offers a fresh and engaging experience tailored just for you.
Jiu-Jitsu, Milwaukee, and the Ecological Learning Experience
When searching for Jiu-Jitsu in Milwaukee, you'll come across various gyms. But Primal MKE stands out with its unique 'ecological' approach to learning. Now, let's simplify that. Remember how as a child, you learned things by playing and experimenting rather than by strict instructions? That's what we mean by ecological. Instead of inundating you with complex techniques, we introduce you to game-based interactions. It's through these playful and dynamic scenarios that you naturally pick up skills, much like how a child learns.
Why Game-Based Jiu-Jitsu in Milwaukee's Primal MKE?
Jiu-Jitsu is as much about mindset as it is about techniques. And while games sound fun (and they are!), they are rooted in solid research. Studies show that game-based learning isn't just a delightful way to grasp a new skill; it's an optimal strategy. So, every time you engage in one of these playful interactions at Primal MKE, you're immersing yourself in one of the most effective ways to learn Jiu-Jitsu in Milwaukee.
Tailored Challenges for Every Learner
In the heart of Milwaukee, Primal MKE recognizes that each Jiu-Jitsu enthusiast is unique. Our programs are crafted to challenge you just enough – not overwhelming, but not too easy either. It's the Goldilocks principle: everything is adjusted to be just right for you.
So, if you're seeking Jiu-Jitsu in Milwaukee and want a blend of fun, science-backed learning, and a tailored experience, Primal MKE - MMA and Fitness awaits you. Dive into the world of Jiu-Jitsu with us and discover a learning journey like no other.